October 12, 2009:
I am LOVING my new kitchen! My amazing husband added an island to our kitchen and installed our new Samsung dishwasher. My also amazing Uncle covered the counters in some beautiful granite! The island has a breakfast bar on the opposite side which the kids love. This kitchen will definitly be getting alot of use!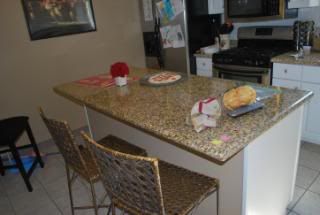 I just purchased a kenmore bread maker and am loving it! Today I made the most delicious Cinnamon rolls using this recipe
http://allrecipes.com/Recipe/Clone-of-a-Cinnabon/Detail.aspx
.
Baking is one of my favorite hobbies especially in the fall when its chilly outside!