October 15
th
, 2009:
The kids love Thursdays because they have Art class in the afternoon. Today we arrived a little early so we played at the playground around the corner for a bit before.
This playground had an old style teeter tauter that the kids had
alot
of fun on! It was funny though because they weigh almost the exact same so they kept getting stuck in the middle.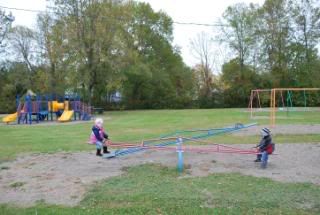 When it was time to go it was a war getting them back into the car for Art class because they were having so much fun running around! They were very excited though when we arrived at Art class. Today they worked on a messy project. They splattered paint into pieces of paper with spoons. They also learned about the primary colors and even remembered them later that day when I asked them. They really have such a great time each week.