Today was a very busy day. Kate and Ty attended their first art class at the Buffalo Art Room. They absolutly loved it! I was so proud of them. They were very well behaved and they did amazing art work! Ty especially loved painting! I love the world of Art and hope they grow up enjoying it too.
This was his first time painting!
He was really enjoying it!
Kate was waiting to start the project of the day- Jack-o-lanters! They swirled red and yellow paint together with there hands! Very messy but they came out great!
After Art class we met up with Aunt Kristy for some lunch at McDonalds. The kids love playing in the play place!
Later that evening baby was making all sorts of coo's and smiles under her rainforest playmat! She is growing so fast!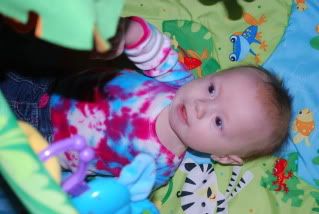 She has been reaching and grabbing things this past week. It is adorable watching her and you can't help but melt each time she gives a big smile! It makes all the late night worth it!